To show or not to show!
If you watched Devon win Supreme Champion at Crufts in 2016 it may have sparked an interest in dog showing. Showing your Westie can be great fun but how do you get to Crufts in the UK or Westminster in the US?
A decision to show your Westie needs to be made early and certainly before you buy your puppy. If you fancy attending your local fete or charity show and entering the cutest dog class or most obedient dog, or even for open shows breeding is not so important. if Crufts is your target however you need to prepare!
Finding a breeder
If you are aiming for Championship shows you need to locate a good breeder. It is unlikely you will find these easily as many will not advertise. Speak to other owners who show their dogs or search the Assured Breeders register on the Kennel Club Website. Another good tip at this time is to speak to the regional or national Breed Associations and join. At this level most dog breeders know each other, they meet regularly on the show circuit and will offer advice on how to get started. Breeders may have litters now or will be able to advise when their next litters are due.
You will find that 'show quality' puppies are often reserved before birth therefore you may have to wait a while. The breeder will name each puppy in a litter and register them with the Kennel Club, this will be your dogs 'official name' which is used for showing. You are of course able to choose a 'pet name' for your puppy which doesn't have to be the same as their Kennel Club name.
Finding a puppy
Once you find a breeder start by asking questions, a breeder should be happy to answer them. Similarly don't be offended if the breeder asks you questions about your home, family and other pets. Breeders are often very protective of their puppies!
1. Do they have puppies ready now
2. Are they show quality – there are no guarantees how good the puppies will be
3. Ask about the pupplies lineage and if the parents or grandparents are champions
4. Have the puppies been socialised, house trained etc.
5. Have the parents had any health issues and have the puppies been healthy since birth.
Arrange to see the puppies and make sure you are able to handle them.
Puppies can not be shown until they are six months old.
One of the first things to do when you have your puppy is to transfer the Kennel Club registration to your name. This can be done via the Kennel Club website.
The next step is to learn everything you can about dog shows and showing and make a start on training your puppy. The Kennel Club have plenty of information on Dog Showing for beginners. The Kennel club recommends that you attend some ringcraft classes. You could also attend a couple of local shows to gain some experience.
Categories of dog shows
Companion Shows: There are regional non affiliated shows and offer a range of classes. These shows are often fundraising events and tend to be more relaxed which may be a good first step. Classes are likely to be less formal.
Breed Specific: These are single breed shows and will usually have a variety of classes. These shows are usually organised by a breed club and will often attract many breeders. If you don't feel ready to show, or your puppy is too young, it is still well worth going along. You will have an opportunity to meet and talk to breed specialists as well as observing ring craft.
Open Shows: An open show will offer a range of classes for many different breeds. Shows are run by canine societies. It is possible to be awarded challenge certificates at some open shows.
Championship shows: The most prestigious dog shows. Class and breed winners of Championship shows will win Challenge Certificates. A CC is the highest award.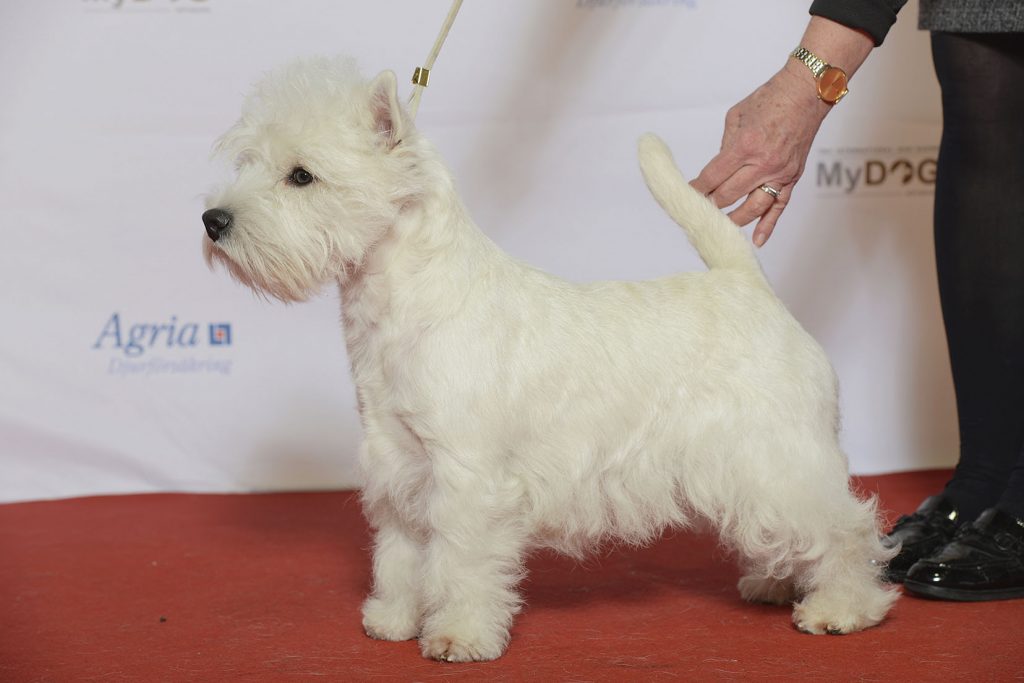 Crowned a Champion
To gain the award and title of Champion you dog will need to have won three Challenge Certificates (CC's) from three different judges at Championship shows. At most championship shows there will be a Challenge Certificate for both best dog and best bitch. Where only one challenger certificate is on offer it will be awarded to the best of breed winner.
In order to attend Crufts a dog has to either be a Champion or have been awarded certain placings at Championship or Open shows. More details can be found on the Kennel Club Website.
Another good source of information is the Dog Press. Our Dogs is a weekly newspaper that is also available by subscription on the internet. There are many websites with details on how to show, ringcraft, preparation.
Grooming for showing
If you are aiming for Championship shows then how you groom and care for your Westie is crucial. Show dogs must be hand stripped to perfection so read the breed standard and learn as much as you can on how to prepare your dog. More information can be found here.
Showing for fun
There are other alternatives. If you have a Westie and want to have a go at dog showing but don't want to go to structured breed or championship shows why not take look at community or charity shows and enter a class. As mentioned above these tend to be much more relaxed.
Other Activities to enjoy with your Westie
What about agility? Westies are renowned for their energy and enthusiasm, they are athletic and have plenty of stamina – all necessary ingredients for agility. Flyball is another high energy activity that your Westie may enjoy. If you have watched the competition at Crufts this event is great fun and fiercely competitive.
If you prefer something a little more gentle that relies on the special bond you have with your dog consider heel work to music or obedience activities. Both require tremendous patience and lots of training so you will be spending plenty of time with your dog – What could be better!
There is lots of information about all of the above activities on the Kennel Club website along with details of clubs and how to get started.