Showing your Westie
Dog showing is a wonderful hobby that can be extremely good fun. But before you rush online to register you need to prepare. Once you have your puppy you need to start a regime of training and grooming to get both you and your puppy ready for the show ring. Puppies must be six months old to enter the ring and must not be spayed or neutered.
A good starting place is to look for a local club that run ringcraft classes where you can take the first steps into the exciting and often obsessive world of competition for dogs. Ringcraft classes are usually run by experienced breeders who have trained many dogs for exhibition. These classes are not breed specific they are more about gaining an understanding of what happens in the ring, what is expected of you and your dog.
You need to learn the lingo!
You will read about 'stacking', walking patterns, grooming and ring etiquette when you start to research how to show your dog. A great way to understand all these is to attend a couple of shows and look at how the dogs are prepared in the benching area and what happens when they enter the ring. The basics of dog showing are the same for most breeds so look at as many different classes as you can.
Grooming: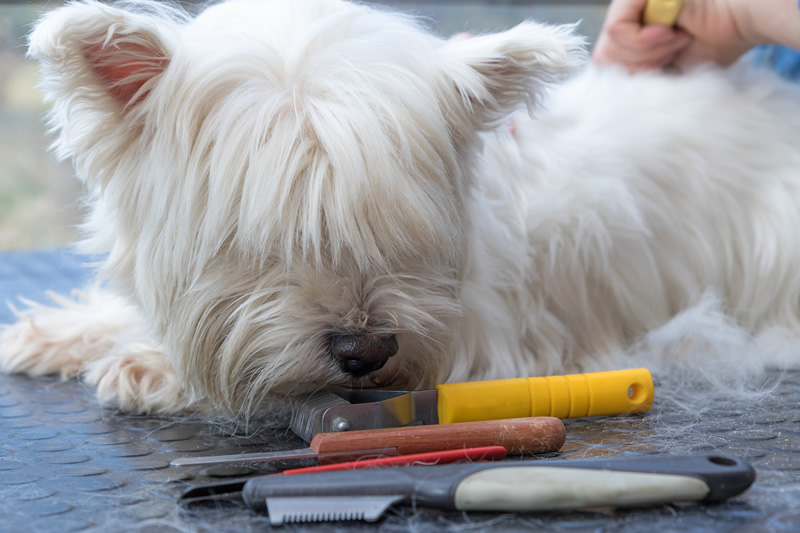 Grooming and presentation is all important. To show your Westie must have a double coat that is hand stripped (not clipped). To make grooming and show preparation easier invest in a good grooming table that is portable along with quality brushes, stripping knives, scissors, nail clippers and a chalk block. If you will not be grooming your dog yourself you will still need a table and tools to prepare your dog on the day. Look at other dogs when you visit a show and study pictures and videos to see how they look.
As you learn how to prepare your dog use the grooming table daily or every other day to get him used to standing while you groom him. It takes time and patience to master this art so don't be disheartened if you to don't achieve championship looks the first time you try!
Stacking:
What is stacking? – in simple terms it is helping your dog to 'stack' or pose properly. Some dogs will stand with held held high and tail at just the right angle whilst others may need a helping hand. The picture above shows the owner 'presenting' the dog. You can use the lead, gently, to remind the dog to lift his head – with time and patience this will become automatic. The tail needs to sit slightly forward and you will often see dog handlers gently hold the tail in position. Your dog will need to learn to stand still while the judge examines him.
Handlers:
You can choose to handle your dog yourself in the ring or for top shows you can recruit the services of a handler. This in itself needs plenty of planning; your dog will need to build a rapport with the handler and be confident with them. If you choose to handle yourself practice walking for show. Dog showing relies on you making the judge see how wonderful your dog is so you need to learn to show him off!
Walking to show off:
There are various walking patterns that a judge may ask you to follow. Each are designed to show the judge different angles. He will study your dogs walking gait, how he carries himself and how closely he matches that all important breed standard. Your dog needs to learn to walk confidently. He should carry himself with pride whilst having fun. The judge will be looking for the 'spring in his step'. Walking patterns include straight line, circle or a triangle. You only have a couple of minutes to make an impression so learn to take your moment.
Judging:
Each judge will compare the dogs in the ring and 'measure' them against the breed standard and against each other. The judge will pick a placing of 1 -3 in each class. The first place dog would then qualify for the best bitch or dog round. At some shows there may be further qualifying rounds before the best dog or bitch. The winner of best dog and best bitch then go head to head for best of breed. In a mixed breed show the Best Westie would then progress to the best Terrier Class. If successful he would then progress to Best In Show.
Dressing to impress:
You will need to walk and run with your dog as well as lifting him on and off a table. Add to that grooming, chalking and toileting which means that comfortable clothing and footwear for you is essential. Advice given in books and show guides suggest using colours that compliment your dogs colour. Thankfully with a white dog colour clashing can be avoided! However avoid black or dark colours where white fur and chalk marks may show! If it is a championship show or Crufts a suit or something smart is appropriate. Wear flat shoes – it could be a long day!
Have Fun!
Dog showing is tremendous fun and the community is friendly. Many exhibitors and breeders will share, with pride, their experiences, but never underestimate showing is competitive, sometimes fiercely so!
If dog showing isn't for you consider agility competition, heal to music craft, earth dog competitions, flyball, obedience or tracking. There is plenty of information on a range of opportunities on the Kennel Club website.
Whatever you choose, always remember that above all having fun with your dog is most important.