How do you find the perfect puppy?
There are plenty of options for finding a new Westie puppy, and many breeders that advertise across a range of different media, but which is best? Westie Life strongly recommends that you start by checking the Kennel Club Assured Breeders Register for reassurance.
Decide if you want a puppy as a pet or to show and that will help in your search. We would also recommend that you take a measured decision and plan for a puppy. You may need to make changes at home either in the house or the garden to puppy proof them ready for your new arrival.
How to avoid buying from a puppy farm?
Puppy farming is unethical mass breeding where dogs are often left in appalling conditions. Mass bred puppies are often sold in poor health with flea infestations and can often have enteritis or more concerning heredity ailments. Puppy farming is often presented professionally with the sellers appearing to comply with legal requirements.  Dogs will be microchipped and often have some paperwork but look out for the tell tale signs. Puppies are often sold from a donor home, away from the mother and there may be more than one breed on offer, don't be fooled. Always ask to see the mother, even after the 8 weeks it would be very unusual for puppies to be separated from their mother before being sold. In order to tackle this appalling trade the government have introduced legislation governing the sale of puppies. If you see a dog advertised that is cheaper than the norm – beware!!
The RSPCA offer advice on how to avoid supporting the puppy farm trade. They have a list of tips on how to check telephone numbers, photographs and descriptions.
If you are offered a Westie puppy from a Kennel Club breeder you can check their credentials on the Kennel Club Register for reassurance.
Once you have decided on a puppy and found a litter you need to decide if you want a boy or girl, neither is better than the other so this is really down to personal preference. If you already have dogs and need to avoid unwanted pregnancies then picking the same sex could be a good solution.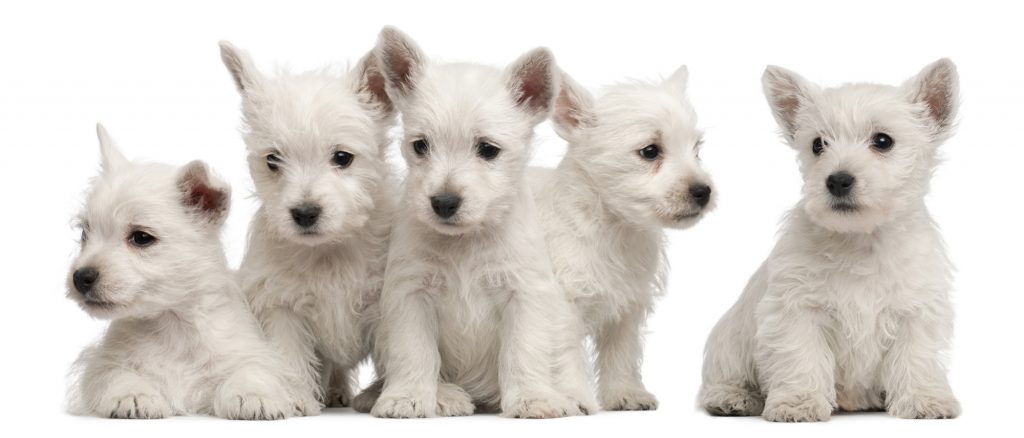 Top Tips for checking a puppy:
Look for clear bright eyes with no discharge or redness. Ears should be clean with no smell. A dog's nose is a clear indication of health, please check for a cold wet nose. Skin should be clean with no rashes, sports or sores. The puppies fur should be clean and soft. The puppy should be quite strong and able to stand with no limp.
Westie Puppies should be alert, active and friendly.
When you view the litter the breeder will usually allow you to handle the pups to make choosing easier. Good breeders will be happy to answer your questions and will welcome an opportunity to share advice. Expect the breeder to show you the puppies with their mother.  The breeder will also give you details on the dogs pedigree including details of parents and grandparents.
If you would like more information please visit the Kennel Club or RSPCA websites using the links below.
https://www.rspca.org.uk/adviceandwelfare/pets/dogs/puppy