West Highland White Terrier origins and history
The West Highland White Terrier, or 'Westie', owes its heritage to the Scottish terriers bred hundreds of years ago to hunt in the harsh Scottish highland terrain of Argyllshire. The name Terrier is derived from the Latin terra which means earth. Terriers are earth dogs, they were selectively bred to go underground to chase and hunt vermin.
The Westie as we see them today has a distinctive brilliant white harsh outer coat with a soft downy undercoat for warmth. It is this double coat that gives the Westie its trademark round white face. The Westie is a small/medium sized dog. Over the years careful breeding has led to the distinctive varieties of hardy terriers from Scotland.
The modern West Highland White Terrier is descended from a number of breeding programs of White Terriers in Scotland in the 19th Century. Credit is given to Colonel Edward Donald Malcolm, 16th Laird of Poltalloch for breeding a White Poltalloch Terrier by carefully selecting cream and white dogs from his Highland Terriers, at the time most resembling the Cairn. Colonel Malcolm like other lairds kept only the best working dogs for hunting irrespective of colour. It is claimed that an unfortunate hunting accident resulted in Colonel Malcolm inadvertently shooting one of his favourite dogs mistaking it for a fox. Determined to prevent this from happening again Colonel Malcolm kept only cream and white highland terriers, despite the regions superstitious belief that white dogs were inherently inferior to their darker counterparts. It is believed that the Westie we see today is a direct descendant of the Poltalloch dogs.
Other related breeds
Other related breeds include the white Roseneath Terrier, bred by George Campbell the 8th Duke of Argyle's estate and the Pittenweem Terriers bred by Dr Americ Edwin Flaxman. The Pittenweem Terriers were white in colour but closely resembled the Scottie with a larger head.  The Roseneath Terriers although white had a soft coat and featured a longer head. All three breeds were entered at dog shows in the early nineteenth century with the Poltalloch Terriers being favoured. Colonel Malcolm is also credited with naming the breed the West Highland White Terrier.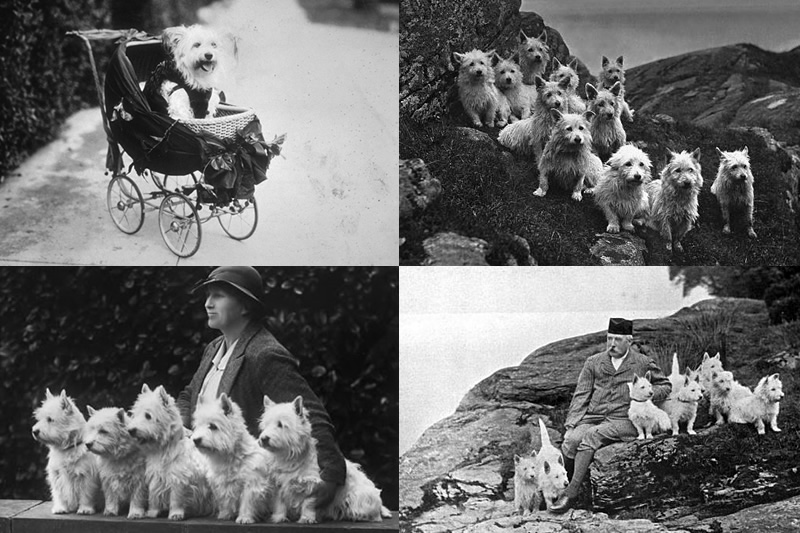 The early Champions
By 1911 Mrs May Pacey had started breeding using the Wolvey prefix. The first of her Champions was Ch. Wolvey Piper. Mrs Pacey devoted her life to developing the breed, and a quarter of the West Highland White Champions in a twenty year period between 1920 and 1940 carried the Wolvey prefix. Mrs Pacey sent many puppies overseas to ensure the the breed survived during the war when both breeding and showing were restricted. The breed flourished post World War II with new breeders committed to producing champion offspring.
The first Westie to win supreme Champion at crufts was Ch. Dianthus Buttons in 1976 followed by Ch. Olac Moon Pilot in 1990. After a 16 year wait the next Westie to be crowned Supreme Champion was Burneze Geordie Girl (born 14 July 2014). Also known as Devon, this stunning little Westie took to the stage with tremendous confidence. The earliest record of West Highland Whites arriving in the United States of America is around 1906 but at that time they were often called the Roseneath terrier. By 1908 the breed was renamed the West Highland White Terrier and gained accreditation with the American Kennel Club in 1909. In 1942 one of the Wolvey Westies Ch Wolvey Pattern of Edgerstoune won the coveted best of show at Westminster.
Today the terriers of Scotland are represented by five distinct breeds, the West Highland White Terrier, Skye Terrier, Scottish Terrier, Dandie Dinmont Terrier and Cairn Terrier.
Westie Breed Standard
The breed standard is a detailed description of an 'ideal dog'. The standard is compiled by the Kennel Club and should be considered as a guide to perfection.
Breeders use the standard along with a programme of controlled breeding to produce dogs which are as close to the standard as possible. The wording is often vague which allows for flexibility in interpretation. If you want to show and ultimately breed Westies then you need to learn as much as you can. Find out about breed lines and look at the Champion Dogs at each of the breed kennels. It is important to gain an understand of the standard and how judges interpret it.
West Highland White Terrier Breed Standard (overview)
General Appearance: Strong build, deep chest, level back powerful hindquarters, muscular legs.
Characteristics: Small, active, hardy, self confident
Temperament: The dog should be alert, gay, courageous and self-reliant but friendly
The Body:
Head and Skull: Skull slightly domed, tapering from skull at level of ears to eyes. Head thickly coated with hair. Strong jaws, black nose
Eyes: Set wide apart, medium in size, not full, as dark as possible and set well under heavy eyebrows which gives the dog a sharp and intelligent piercing expression
Ears: Small, erect and carried firmly, terminating in sharp point, set neither too wide nor too close. Hair short and smooth should not be cut
Mouth: Teeth large for size of dog, with regular scissor bite, i.e. upper teeth closely overlapping lower teeth and set square to the jaws
Neck: Sufficiently long to allow proper set on of head required, muscular and gradually thickening towards base allowing neck to merge into nicely sloping shoulders
Forequarters: Shoulders sloping backwards. Shoulder blades broad and lying close to chest wall. Forelegs short and muscular
Body: Compact. Chest deep and ribs well arched in upper half presenting a flattish side appearance
Hindquarters: Strong, muscular and wide across top
Feet: Forefeet larger than hind, round and proportionate in size.  Strong, thickly padded and covered with short harsh hair
Tail: 13-15 cms (5-6 ins) long, covered with harsh hair, no feathering, as straight as possible, carried jauntily, not gay or carried over back
Gait/Movement: Free, straight and easy all round. In front, legs freely extended forward from shoulder. Hind movement free, strong and close
The Westie Coat
Coat: Double coated. Outer coat consists of harsh hair, about 5 cms (2 ins) long, free from any curl. Undercoat, which resembles fur, short, soft and close. Free from obvious skin problems
Colour: White
Size: Height at withers approximately 28 cms (11 ins)
If you intend to show your Westie they must not be spayed or neutered.
If you would like to read the full breed standard text along with guidelines visit the Kennel Club Website:
The Kennel Club Westie Breed Standard
More information on breed standard can be found here….